Falcon Pride Project - Phase II
To learn more, click on the following link:
Photo Gallery
Walking Trail Information: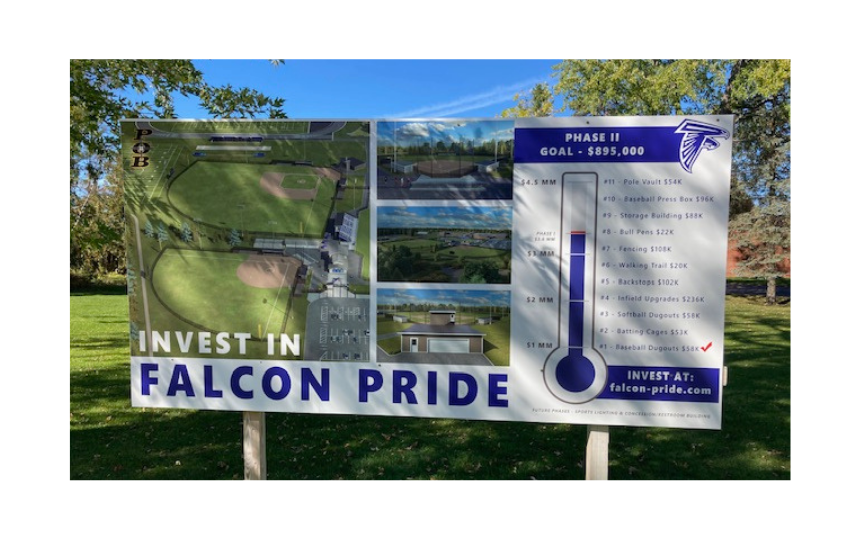 A Message from Mike Richie, District Administrator
Falcon Pride Project Phase Two Begins
In the fall of 2020, the $3.6 million Falcon Pride Project phase one was completed. For this project, $2.8 million was raised through private donations. The fundraising committee has recently reconvened to raise an additional $895,000 to complete phase two of this project. This fundraising committee is chaired by Gregg Gutschow and co-chaired by Jill Villnow. We will also be seeking any potential grant opportunity that may be available.
The large sign on the corner of Main Street/School Street has been changed to represent the phase two project. This project will include the following:
Community walking trail around the school district site/property

Baseball dugouts

Softball dugouts

Batting cages

Baseball field infield upgrades

Softball field infield upgrades

Baseball and softball backstops

Baseball and softball fencing

Baseball and softball bullpens

Storage building

Baseball press box

Pole vault pit and pads
The unique aspect of this project is that it is designed as a stand-alone phase. As enough money is raised for a particular item from the above list, that portion of the project will be completed. We currently have enough money raised for the baseball dugouts so construction of the dugouts has begun and will be completed by the end of November. Because of a severe windstorm during the summer of 2019, the baseball dugouts were destroyed and the softball dugouts were damaged, so those two items became a priority during the construction planning.
This community project will not only benefit our high school student athletes, but also our youth programs. In addition to the fieldwork, the walking trail will benefit the entire community by providing a safe place for all community members to enjoy a place to walk outdoors.
Phase one of this project would not have been possible without private donors. We can not thank our donors enough for their generosity and support. The same is true for phase two of this project, as this project will be completed by private donations, and minimal use of district funds.
As we begin this journey and continue to improve our facilities, please watch the Falcon Pride Project Facebook page, the Tomorrow River District School website and Facebook page, and the Point of Beginning website for more information. Information will be added to these sites over the upcoming weeks and updates will be posted on a regular basis.
If you are interested in becoming a donor and contributing to this great project, checks can be made payable to the Falcon Pride Project and dropped off at the Tomorrow River School District Office, or sent to the school district at 357 North Main Street, Amherst, WI 54406. Our target goal is to raise $895,000 and please remember no donation is too small! Click on the donation and pledge form, you will notice there are two options to submit your donation.

If you have any questions regarding the Falcon Pride Project Phase Two, please contact me: Mike Richie, District Administrator by email at: mrichie@amherst.k12.wi.us or by phone at: 715-824-5521 ext, 1230. On behalf of the Tomorrow River School District and the Falcon Pride Project Fund Raising Committee, we thank you for your support.